Testimonials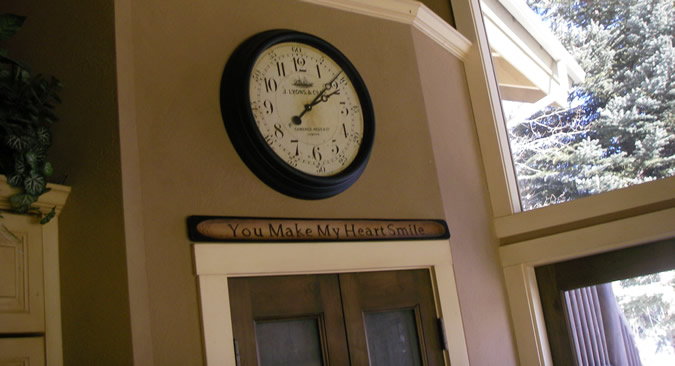 "Thank you for doing such a superb job, from the time you got to the water damage through to overseeing the little details. I appreciate your concern about quality of work and the great communication over the long time period. Knowing that you were overseeing, everything I could feel at ease from such a far distance. You did a great job and I really enjoyed working with you and your staff. Thank you so much!"
Rachelle DeLong, Ketchum
---
"Absolutely everyone who worked for Valley Maintenance was on time, perfect work, etc. You are the best. Every bit was perfect! Timely, great communication, done to our complete satisfaction. I'd use Valley Maintenance again in a second and recommend them to everyone I know."
Bruce Potter, Ketchum
---
"Thank you so very much for the wonderful job that was performed at our residence. Everyone worked hard, were very professional and accommodating. We were EXTREMELY happy with the immediate response and all of the work performed. We were especially pleased that you met our deadline. You not only met it, but you completed it a week earlier. You also took care of everything with the insurance company which made the entire process easy. We didn't have to worry about a thing. Thanks again for helping us through the process and for the beautiful job your crew did. You far exceeded our expectations."
Fabrizio & Amy Lizano, Hailey
---
"We're very appreciative of the prompt and quality service we received. We've used Valley Maintenance before and are always very happy."
Ken & Marge Flanz, Elkhorn
---
"You guys are the best! Professional friends and trusted partners who have bailed me out over and over again!
Norma Doglas, Sun Valley
---
"Great Service!"
All Star Properties, Hailey
---
"Your team was punctual, patient, professional and fair. You have been placed at the top of the Crown Ranch Service Providers Reference list for all of our homeowner's mitigation/restoration work. Job well done!"
James Carkonen, Crown Ranch HOA
---
"Very satisfied with all work and end result!"
Dick Carrothers, Bellevue
---
"I would recommend Valley Maintenance to my clients in need of repair & restoration services in a heartbeat."
K.S. Managing Principal
---
"Very professional and friendly service."
Lynda Bachman, Sun Valley
---
"Thanks for the great job."
Lois Chandler, Hailey
---
"Thanks again for your help with the flood in the condo. Your quick response and fast clean up have made a bad situation livable."
Craig Reese
---
"Curtis & Crew – Thank you, thank you for a very professional job! I was out of town while work was completed and returned to a truly perfect job. You far exceeded my expectations! Everything was A+."
Kathy Chichester
---
"Just a quick note to let you know that our water problem has been successfully taken care of. Our water heater developed a small leak and without us knowing flooded our extra bedroom. Upon discovery I called Valley Maintenance. I just wanted you to know that we were so very pleased with the quick response and the overall service that we received from Valley Maintenance. They are a great asset to our valley."
Phyllis Evans, Hailey
---
"Thanks again for helping me through the process and for the beautiful job you and your crew did."
Mary Ann Wuebker, Hailey
---
"I have been meaning to write a letter of recommendation for months to all prospective clients of Valley Maintenance & Restoration, Inc. In February 2007, I came to our Sun Valley home to find a burst water pipe and a major flood plain settled in our house. Who knows when the pipe burst, but there was water everywhere! Through a referral, I immediately contacted the father-son team of Dwain and Justin Larsen. They both came with an air of calm and confidence to assess the damage.
Within hours, I had a deconstruction crew at my home knowing just exactly what to do. The whole process of tearing down had to be done prior to the building up and final restoration. When you are a part-time resident in the valley, you just have to place your faith in people who are professional and personable. Their entire staff was very prompt, trustworthy, clean and neat under the circumstances. And believe me, you need someone to "hold your hand" while you are at home and all thin "stuff" is going on up here. I can say without any reservation that my house was totally restored in the proper time frame for such a catastrophic event. The final result was actually a little bit better than it was before. I can commend their whole operation and team effort in restoring my house into perfect condition."
Michael Potter
---
"Thank you so much for your prompt attention to my repair. And for sending the photos, etc. to the adjuster. As an absentee owner I really appreciate condo operations calling you and having you fix the problem. I have now had two renters in the unit that have said everything is just fine! Thank you so much!"
Gretchen Stengel, SV Wildflower Condo Owner
---
"Thanks for the quick service, looks great."
Peter
---
"Many thanks, and it looks TERRIFIC!"
Judy
---
"Thanks for taking care of this so quickly."
Carol
---
"Valley Maintenance & Restoration is an asset to the valley."
---
"Thank you. The rugs look great."
---
"We just returned to our condo. Thanks for a very well done job."